Orlando Residential Real Estate Market Update - July 2017
Where is the Greater Orlando Residential Real Estate Market Headed?
The latest numbers (July 2017) for the Orlando Residential Real Estate Market are out. Read below to find out:
Current inventory levels and where they're trending at the following price points

$300k and less
$300k to $500k
$500k to $750k
$750k to $1M
$1M & up

Median Sale Prices for Single Family Homes, Condos, and Townhouses
Where the numbers are trending over the last 3 years
How quickly homes are selling
Current Average Mortgage Rates
Inside look into the next 12 months
The opportunity to track your property's value
Summary
Inventory has continued its decline and remains at historical lows as the number of available properties is still unable to keep up with demand. However, rising prices are slowing some investor activity at the lower price points which should hopefully lead to less competition for first-time homebuyers. Needless to say, home sellers are reaping the benefits as the conditions of the market are completely in their favor for most local neighborhoods & sub-markets.
Comparing July of 2017 to July of 2016, the current activity is lower simply due to the lower number of available properties. Despite this, sales activity has been extremely consistent over the course of the past year & this year, the trend is expected to continue with inventory still declining into the normally slower Fall Months.
The Numbers

NUMBER OF ACTIVE LISTINGS IN ORLANDO MSA | 2007-2017
| | | |
| --- | --- | --- |
| Single Family Homes | Townhomes | Condos |
| | | |
Given the current market conditions pictured above and the law of supply vs demand, it is easy to see why both the total value of all transactions & the average transaction value have increased compared to the same time frames in the prior years (July 2017 to July '07 - July '16).
July 2017 compared to July 2016
| | |
| --- | --- |
| METRIC | NUMBER |
| Total Transaction Value | 9.02% increase |
| AVG Transaction Value | $261,444 (8.51% increase) |
| AVG price of single family home | $294,432 (8.75% increase) |
| AVG price of condos | $130,744 (16.36% increase) |
| AVG price of townhomes | $210,257 (9.65% increase) |
| Value of Luxury Market | $750,000+ (2.45% of all transactions) |
Here is a look at the breakdown for the 1st half of the past 3 years: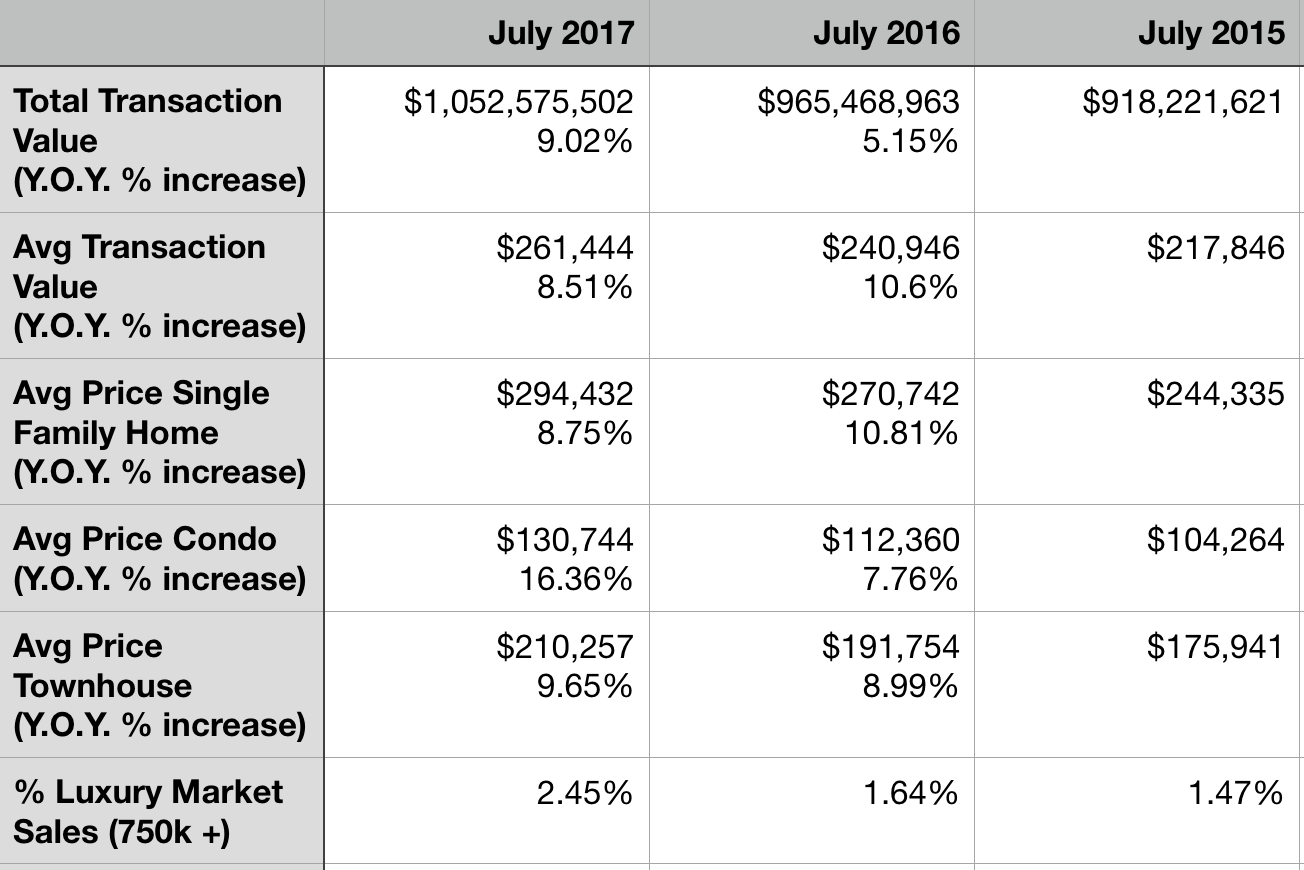 Inventory Levels Across Various Price Points
| | |
| --- | --- |
| $300k & less | $300k - $500k |
| Hovering around 2 months. An extreme Seller's Market. | Hovering around 4 months. Slightly favors Sellers. |
| | |
| $500k - $750k | $750k - $1M |
| Hovering around 7 months. Slightly favors buyers. | Hovering under 10 months. Heavily favors buyers. |
| | |
| $1M & Up | Total Inventory since 2015 |
| Inventory a little under 15 months equates to a strong buyers market. | At 2.7 months - A small uptick from last month, but still trending down y.o.y. |
| | |
And Graphs for Orlando Median Sales Prices from 2007-2017
Single Family Homes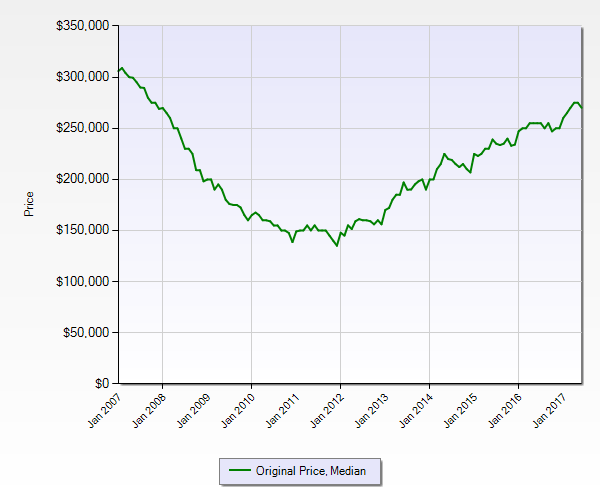 Townhomes
Condos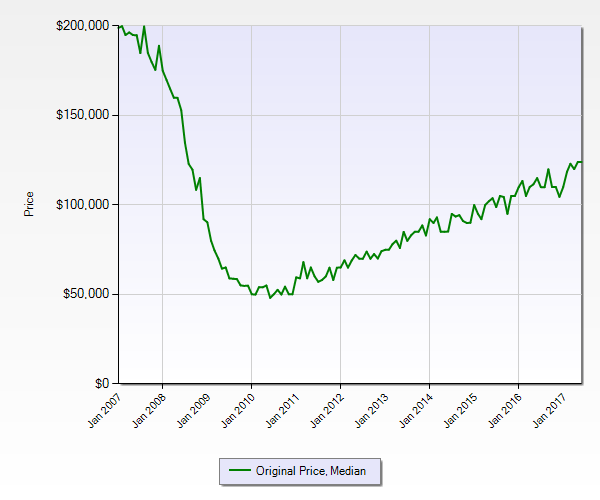 So What Does This Mean For You?
Inventory continues to decline, especially in the starter home range due to increased construction costs leading to less new development, while demand continues to rise which is going to have an extreme impact on future market activity.
With a few key dates & decisions coming up by October of this year including two Federal Reserve meetings, as well as the deadline for the government's debt ceiling decision, it is worth keeping a close eye on the residential market, but given the current conditions, we still expect to see:
Inventory to continue to decline
The current seller's market to continue at the lower price points, $500k or less, (for most areas except those local sub markets on the outskirts of Greater Orlando with a bevy of new construction in the area) through the end of 2017 due to the above and other various factors. However, specific neighborhoods and school zones that are more desirable could see a seller's market into the higher price points as well.
Continued buyer & investor confidence
The Bottom Line...